On the lower floors of the Maison de l'Eau is the Appartement Jaune, measuring 38m².
The pleasant living-area has been completely modernised whilst still retaining features of the original building.
In the kitchen, for example, you can still see remnants of the original masonry and around the entrance to the apartment are the remains of some of the original sandstone.
The whole apartment has genuine red oak parquet flooring and underfloor heating throughout.
There are two comfy leather chairs where you can sit and enjoy a leisurely breakfast, read a good book or watch TV.
In winter, you can sit and watch the wood crackling in the Swedish wood stove as it fills the room with a delightful cosy warmth.
The kitchen is fully-equipped and comprises: an oven, dishwasher, fridge, ceramic hob, coffee machine, cooking utensils and crockery - in fact, everything for your day-to-day needs.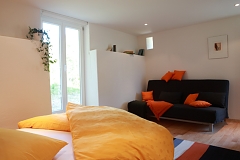 The second room serves as a sleeping/living area.
Yellow and orange textiles give this bright, airy room a cheerful atmosphere and make it the perfect place to relax, read or just while away the day.
With a double bed and a pull-out sofa, you will really be able to relax and unwind.
A separate guest toilet can be accessed at the rear of this room.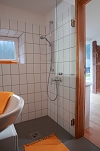 The Appartement Jaune has a bathroom with a window, comprising a toilet, washbasin and an Italian shower.
Full-length double doors lead from the bedroom onto a terrace where you can sit and enjoy the fresh air.
In brief:
approx. 38m², underfloor heating, real wood parquet floors, Swedish wood stove
kitchen: ceramic hob, dishwasher, oven, sink unit, fridge, crockery, pots and pans and a coffee machine
living-room: TV and DVD player, dining-table, 2 chairs
bathroom: toilet, washbasin, Italian shower, window, heating
bedroom: double bed, sofa bed
no. of people: sleeps 2
comments: no smoking, no pets